Rio, Colin O'Donohoe was preparing for an "Olympics" of a musical variety.
The Chandler freelance musician and founder of the world instrument Pangean Orchestra will attend the Atlas Lab in Amsterdam, The Netherlands, from Aug. 27 to Sept. 5. There, he will help develop intercultural music with topnotch musicians playing the Chinese pipa, Japanese sho, Palestine oud, Indian sarangi, Spanish flute and other lesser-known traditional instruments.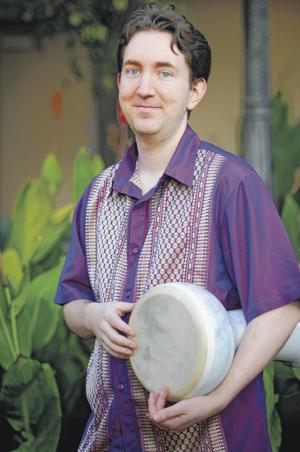 "It's like a U.N. meeting or the Olympics; and like the Olympics, it's a volunteer thing," said O'Donohoe, who is raising funds for his expenses via a GoFundMe campaign atgofundme.com/worldmaestro.
The invitation to the global stage came following O'Donohoe's entry in a composing competition organized by the Atlas Ensemble, which has a mission to cross-pollinate music of different cultures and develop new repertoire in order to preserve the instruments and stay relevant.
Winners don't receive medals, but receive entry to the prestigious event. O'Donohoe, who is a percussionist, and violinist Sarah Cave, currently based in Bombay, India, are the only participants from the United States.
Opportunities such as the Atlas Ensemble (atlasensemble.nl) are important, O'Donohoe said, because the workshop gathers open-minded people who want to draw from their own heritage to create music for the 21st century.
The world has a tendency to look up to American music and set their standards accordingly, O'Donohoe said.
"So much of the world is going toward whatever's the top 10 in America and other countries are trying to mimic it," he added. "These instruments are so under the radar even in their own countries."
The one way to preserve these instruments is to make them relevant in this century and make the music likable.
To that end, participants will share their skills, experiment and "let their guard down" in order to create bold and modern work.
About seven years ago, O'Donohoe did the same in Gilbert. He founded the Pangean Orchestra (also known as The Immigrant Orchestra), a gathering of more than 30 ethnic musicians in the Valley who collectively made "unusual" music on the local stage on a theme of peace. The orchestra was subsequently moved to New York on a smaller scale when O'Donohoe did the same, but Pangean has played at least one annual concert in the Valley.
When O'Donohoe returns from Amsterdam, he plans to give new impetus to the Pangean Orchestra, starting with a concert planned for November at the Tempe Historical Museum. Rather than play folk music with a modern spin, the group will play brand new work with the ancient instruments, he said.
In addition to creating the Pangean Orchestra, O'Donohoe's resume has other notable recent accomplishments. In New York, he played with actor/musician Dominic Chianese, known best for playing Uncle Jr. on "The Sopranos," and composed music for "The Dr. Oz Show," "Access Hollywood" and "Oprah's Next Chapter." "Apostrophate Me," a musical that he wrote with his late brother based on their Irish heritage, is being optioned for a feature film to be made in Ireland next year.
O'Donohoe, 38, believes the best is yet to come. He harkens to the time The Beatles made the sitar "cool."
"I'm not famous, and I don't have a pulpit like they did," he said. "But it is possible. People are ready for it."
>